FHA Streamline Loan Information, Benefits, and Rates
I am the author of this blog and also a top-producing Loan Officer and CEO of InstaMortgage Inc, the fastest-growing mortgage company in America. All the advice is based on my experience of helping thousands of homebuyers and homeowners. We are a mortgage company and will help you with all your mortgage needs. Unlike lead generation websites, we do not sell your information to multiple lenders or third-party companies.
In this post, let's look at FHA Streamline loan information, benefits of getting such a. refinance, current FHA. streamline rates, and the best lenders to work with. for such a refinance.
What is FHA Streamline Refinance?
Refinancing of a current FHA insured loan into another FHA insured loan is called an FHA Streamline Refinance. The mortgage to be refinanced must be current (not delinquent). Not all FHA to FHA refinances are streamline in nature.
Is there a minimum waiting period before which you can do a Streamline Refinance?
Even though FHA loans come with no pre-payment penalty, you need to wait for 211 days from your last FHA loan before which you are eligible for a new FHA streamline refinance.
FHA Streamline Loan Information regarding Appraisal
One of the biggest benefits of an FHA Streamline Refinance is that no appraisals are required. Your Loan-to-Value Ratio (LTV) is calculated based on the last appraised value when you got the current loan. However, no cash-outs are allowed. In some cases, an appraisal may be required.

What are the Monthly Payment Benefits of FHA Streamline?
For you to qualify for an FHA Streamline loan, the new loan must meet a certain payment benefit requirement or you should be moving from an ARM (Adjustable Rate Mortgage) to a Fixed Loan. The table below shows the exact benefit requirements:
What if I don't meet the Payment Benefit Requirement?
If you can't meet the 5% benefit requirement, you can still refinance from an FHA loan to another FHA loan. You may still be eligible for a UFMIP refund (see below), you would have to get the house appraised again. And the new Loan-to-Value ratio will be calculated based on the new appraised value, and that ratio can not exceed 97.75%.
How much refund do I get on my UFMIP?
When you refinance from an FHA loan to another FHA loan within 36 months, you are eligible for a partial UFMIP (Upfront Mortgage Insurance) refund. The refund is a percentage of the actual UFMIP you paid on your current FHA mortgage. The percentage goes down every month and ultimately becomes zero after 36 months. The table below provides all the details: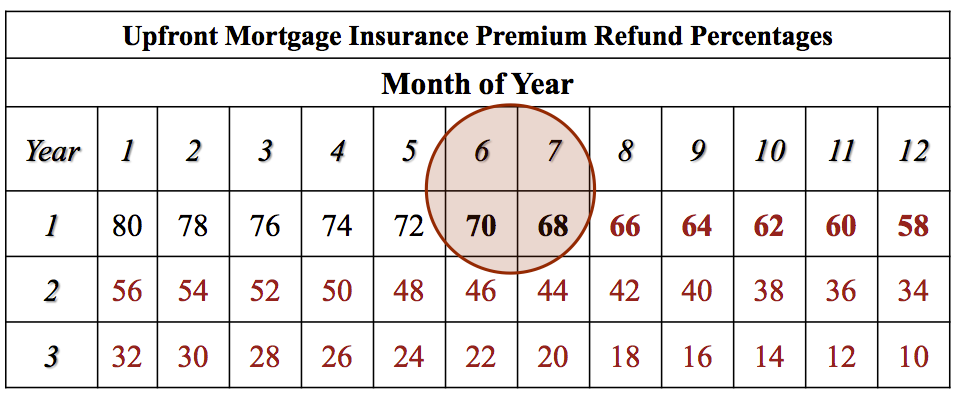 FHA Streamline Loan Information regarding Insurance
The MIP (Mortgage Insurance Premium) on an FHA Streamline (and even a regular FHA loan) are of 2 types – Upfront Mortgage Insurance Premium (UFMIP) and the Annual Mortgage Insurance Premium. The current UFMIP is 1.75% for all loans. However, the Annual Mortgage Insurance Premium numbers vary based on loan terms, loan amount, and LTV. The table below details all possible scenarios.
Note – If your current FHA Loan was endorsed before May 31, 2009, you may be eligible for a reduced UFMIP of 0.01% and an annual mortgage insurance premium of 0.55%. If you are not sure if your current loan was endorsed before that date, contact us and we can find that for you.

What are the current mortgage rates for FHA Streamline Refinance?
FHA Streamline Refinance typically has the same rates as other FHA programs, sometimes even lower. The best way to get a live and most current rate quote is by completing this Rate Quote Request Form.
What are the closing costs on an FHA Streamline Refinance?
Typical closing costs may include Lender origination fees (Points) and Escrow/Title related expenses and can add up to 3%-5% of your loan amount depending on the lender and the loan amount. At Arcus Lending, we do offer a no point and no closing cost option. Start here with completing a form in less than 60 seconds (No SSN required).
You will also be required to set-up a new impound/escrow account and will have to come up with reserves money for your Property Taxes and Home Insurance. However, your current lender will refund you the escrow reserves balance after the new refinance is closed.
Who are the best lenders to work with for an FHA Streamline Refinance?
Arcus Lending is an approved FHA lender with stellar customer reviews on Google, Yelp, Facebook, and Zillow. Because of super low rates, amazing customer service, and award-winning expertise, we are confident that we are one of the best lenders for such a program. Email us to get started – [email protected]
You may also like to read – Ultimate Guide to FHA Mortgage Insurance Premiums